Bringing hope and transformation to the Democratic Republic of Congo | MIT News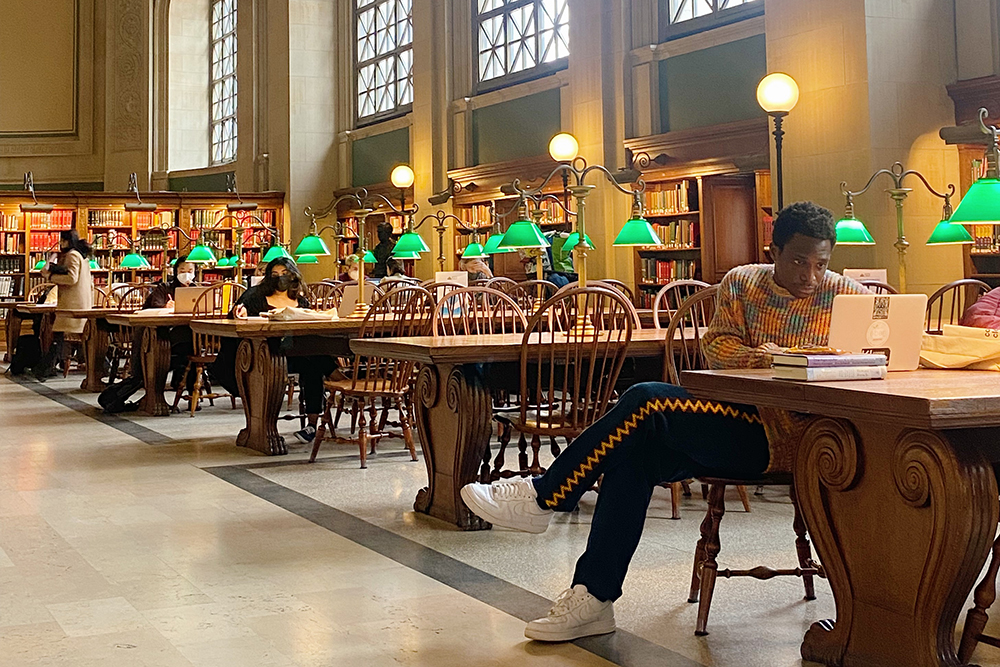 MIT graduate student milain fayulu is on a mission. Born in the Democratic Republic of Congo (DRC), Fayulu tells and sells his nation's story in hopes of helping his people and transforming their economy.
For decades, the DRC has been dogged by corruption and bloody civil strife. "I grew up feeling that the DRC was not where it was supposed to be," he says. "I wanted to know what it would take to make the country as rich and powerful as it once was."
For Fayulu, the answer is to create businesses that can be clearly identified with Congolese society and culture, and to use the income from these businesses to meet critical needs in the DRC.
He found a way to launch his ambitious business at MIT. Since arriving in September 2021, he is simultaneously pursuing a master's degree in political science and developing a new business with the support of a scholarship at Legatum Center for Development and Entrepreneurship at MIT.
Interaction of business and politics
Fayulu's new venture is not his first encounter with startups. Right after graduating with an economics degree from the University of Miami in 2015, Fayulu launched Eben Cosmetics, a skincare company for people of color — an underserved consumer niche, he believed. To pay rent and help get Eben off the ground (his first cash injection came from a $17,000 Kickstarter campaign), Fayulu launched Flashstay, a real estate tech platform for short-term rentals in Miami.
"I see entrepreneurship as problem solving," he says. "With good ideas, you can provide opportunities for people and create enormous wealth."
But in 2019, a cataclysmic episode forced Fayulu to put these companies aside. His father, a former executive of Exxon Mobil, presented himself as a presidential candidate in the elections in the DRC. According to the official vote tally and independent observers, Martin Fayulu won by a commanding margin, but was denied victory by the country's electoral commission. The Financial Times wrote that Fayulu might "be the most wronged man in world politics".
For young Fayulu, this represented a turning point. "I realized that in the end it all came down to politics," he says. "It was clear that if you can't fix politics, it doesn't matter what field you work in." With what he called a "fraudulent" president in power, Fayulu decided to "get the big picture in policy-making and learn how to make sure the rules of the game are level playing field". He started studying for the GRE and applied to MIT.
Recommended by Evan Lieberman, a total professor of political science and contemporary Africa, Fayulu immersed himself in political theory and methodology. He was particularly impressed with Lieberman's course on ethnic politics. "We explored the relationships between different groups and the impact of ethnicity on society," he says, asking, for example, why two African tribes get along in one country, but not in another. "We looked at historical patterns and I found that a lot of the things I had strong opinions about were based on superficial knowledge; now i know i have to dig deeper to understand.
Fayulu's dissertation studies how US venture capital investment in Africa has been concentrated in a handful of countries (Nigeria and South Africa topping the list). He hypothesizes that the presence of students from these nations in elite American colleges has created an invaluable financial network for African businesses. "There's a first-mover advantage that keeps feeding on itself and ballooning."
Mission-driven clothing line
One of the most monstrous dimensions of the DRC's complex conflict is the widespread occurrence of sexual violence, used by combatants, foreign and local, to terrorize. (A study by the American Journal of Public Health found that 48 women are raped every hour.) In 2018, Congolese gynecologist and human rights activist Denis Mukwege won the Nobel Peace Prize calling for an end to the use of rape as a weapon of war. , and to offer survivors a way forward. It was a call Fayulu couldn't ignore, and the inspiration for his current passion project, the Congo Clothing Company.
"I had a burning idea to help this man, a hero doing God's work on Earth," Fayulu said. Seeing that interest in Mukwege's cause was waning just a year after his award and "that nothing was improving on the ground", Fayulu decided to find an effective and long-term method of publicizing Mukwege's work. Mukwege and raise funds to help his efforts on behalf of rape victims.
"This is where entrepreneurship comes in," he says. "I had the idea for a fashion brand – a line of denim clothing incorporating Congolese designs with universal, cross-border appeal – that would provide income to survivors and tell their stories."
Fayulu's goal is to sell Congo Clothing on online platforms and channel a percentage of profits to train survivors and fund their ownership of individual sewing machines. Fayulu intends to give them a certain independence and a feeling of self-sufficiency. These women are currently being cared for at Panzi Hospital in Mukwege in eastern DRC, an area of ​​active civil conflict.
When customers receive their Congo Clothing package, they will learn about the history of violence in the DRC, but through a framework of survival, one of hope and resilience. "Buying this brand creates a narrative that can educate people," says Fayulu. While it currently depends on a Colombian factory to produce the clothing line, it is currently partnered with a MIT D-LAB design project team to prototype future 'made in Congo' items and he will use his delta V opportunity this summer to move closer to his vision for the DRC manufacturing operation. "I see this as a catalyst for building a robust textile industry in this part of the country," he says.
The company is already on a high-speed track: Fayulu's start-up team was invited to participate in the MIT delta v acceleratora summer-long educational experience sponsored by the Martin Trust Center for MIT Entrepreneurship that prepares start-up companies for a full-fledged commercial launch.
"It's great validation for the whole team, because it means there are people who believe our project has the potential to make an impact," says Fayulu. "The life of an entrepreneur has its ups and downs, and this stamp of approval from MIT gives me a chance to take a breather."
Congolese at heart
After a childhood spent moving from one African country to another and an education abroad, Fayulu's loyalties never strayed from the DRC. Like his father, he believes that his own history is inseparable from that of his country. Afflicted by decades (and centuries, if you count an era of Belgian rule) of rule by greed and brutal repression, the DRC needs a fresh start, politically and economically, says Fayulu. He hopes to champion this cause from Cambridge, and eventually from Congo itself.
"I am the only DRC citizen at MIT this year and I want to take advantage of this unique position, serving as the first bridge between MIT and DRC," he says. Ultimately, he would like to erase the investment differential that favors more established African nations by recruiting more Congolese students to MIT and Harvard University. And with the mentorship and networking provided by MIT's delta v summer accelerator program, Fayulu plans to lay the foundation for not just the Congo Clothing Company, but a flood of DRC-oriented businesses. "I would like to build a Congolese national conglomerate that provides jobs for local people and that could be an ambassador for the country in the rest of the world," he says.
He will also fight for a legitimate and representative government in the fast approaching elections in the DRC, hoping to banish the kind of cronyism and insiderism that stands in the way of true economic revitalization. "It's an African story," says Fayulu. "It's going to be long and difficult, but that's the end goal."