Five places to dine during Melbourne Fashion Week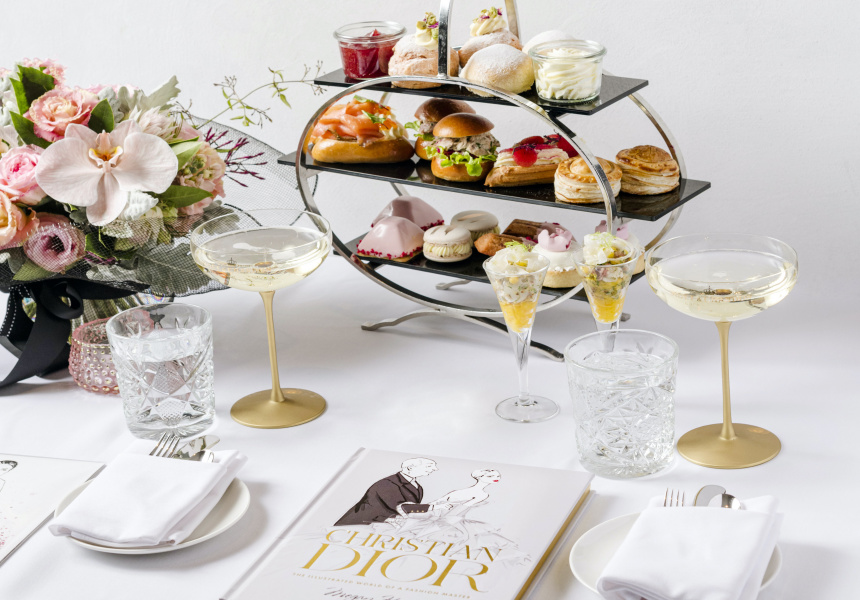 It's back: the glamorous high of Melbourne Fashion Week. From November 15-21, this year's lineup includes unconventional runaways (think the Plaza Ballroom and under the CWM), markets, pop-ups, workshops, and industry talks.
In between all of these deals, you'll need some handy shortcuts to great meals located in Melbourne's CBD. While you plan your attack, check out Fashion Week stays at Marriott Bonvoy hotels and resorts, including W Melbourne, Westin Melbourne, Melbourne Marriott Hotel and Sheraton Melbourne. They will provide a jumping off point for the fashion festivities – and all the socialization and people-watching needed.
maha
Shane Delia's Middle Eastern restaurant offers extensive set menus in the spirit of "soufra", an Arabic word for a long table laden with delicious food. While the menu changes regularly, this community feast can include everything from spicy and dried kangaroo and swordfish sashimi to dry-aged duck breast and slow roasted lamb shoulder. Even more complex tasting menus are also available, including (as with the soufra) a delicious vegan version. Playing on traditional Middle Eastern motifs, the desserts are equally mouth-watering: watch recent Turkish delight donuts, served with walnut ice cream and rosewater honey. Maha's ambiance is as exquisite as her plate, and the finely tuned cocktail and wine selections will complement the many flavors on display on these hearty banquets perfectly.
maha
Curious
An underground cocktail bar, part of the recently opened W Melbourne, Curious is not the kind of place you would stumble upon. This only adds to its appeal, of course. It specializes in sharing platters like fresh appellation oysters and grass-fed beef tartare served with mustard su-miso and a nori cracker for warmer sensations like crispy eggplant to the harissa with honey and pistachio and a farm pork katsu sando with cabbage and tonkatsu. Award-winning bartender Charlie Ainsbury of Proof & Co has built a cocktail list around Melbourne's cultural hubs of coffee, art and fashion – the latter including tastes of Smoke on the Runway (Absolut Lemon Vodka, Peach, passion fruit, apple, lemongrass) and the alcoholic silhouette (Seedlip Grove, Strangelove mandarin soda, champagne vinegar, lemon myrtle).
Curious
Kisumé
The Lucas group's chic Japanese restaurant (which even accepts reservations, unlike siblings Chin Chin and Baby) features a New York-style sushi bar, more intimate dining upstairs, and a lively dining room at the basement. There's even a Chablis bar, which houses a range of sushi-friendly chardonnays. Also look for oysters, dumplings, and other shareable offerings, paired with house cocktails and Japanese whiskey if chablis isn't your thing. Between modern design and framed images from local photographers, Kisumé is truly an experience. Start with sushi, but stick around long enough to explore all the possibilities.
Kisumé
Natural History
If you're looking for something more casual after the glitz of MFW, Natural History is a cozy American eatery paying homage to classic New York grills. Designed by International Worldwide, the layout will immediately transport you to the United States, with chicken wings, onion rings, stacked Wagyu burgers, and affordable craft beer fresh on tap. Steaks are almost worth giving up on a burger, and there are inventive vegetarian variations on both: check out the corn and jalapeño burger with tzatziki and charred pepper, or the spicy cauliflower steak with influences. from the Middle-East. And depending on what day you're there, you might just get lucky in a special $ 20 burger, steak, parma, or fish and chips. Do not come alone: ​​this place is ideal for group festivities.
Natural History
High Fashion High Tea at the Westin
Upgrading a long-standing tradition, the Westin Melbourne hosted a themed tea to celebrate the launch of illustrator Megan Hess' new biography Christian Dior: The Illustrated Universe of a Fashion Master. Presented in the lobby lounge of the Collins Street Hotel, the limited-time dining event includes a flute of Moët & Chandon champagne on arrival, unlimited tea and coffee, and an exclusive gift bag containing the book of Hess and one of his art reproductions. The menu was even inspired by his creations, his use of floral designs on a white canvas with the golden and pink hues of the book. Also, look for some veneer patterns that also echo his art. Anchored by a rosewater and pistachio scone served with whipped cream and jam, the snack also includes sides of smoked duck, a champagne salmon gravlax and a salad of mango, lobster and fennel (among others), with sweets ranging from a cream of strawberry and basil delight to a chocolate raspberry and ruby ​​madeleine.
The Westin
This article is produced by Broadsheet in partnership with Marriott Bonvoy. For Marriott Bonvoy members looking for a VIP experience, Marriott Bonvoy Moments can be redeemed through your loyalty points. See the packages here.