How the director annihilates bourgeois values ​​through satire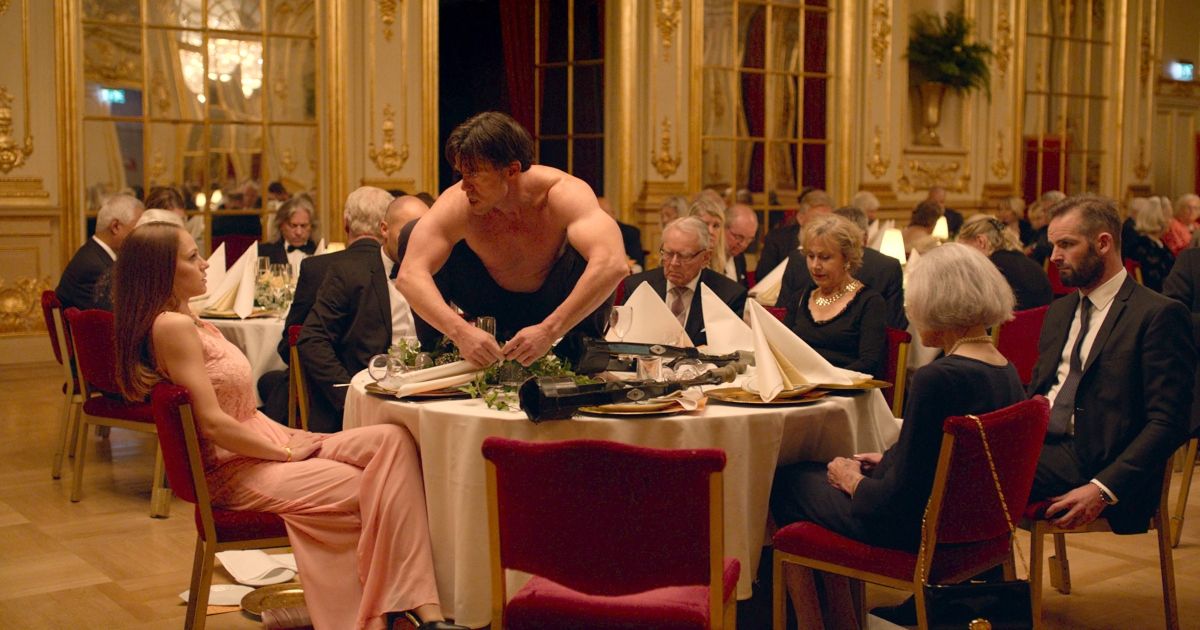 At the 2022 Cannes Film Festival, the top prize went to Ruben Ostlundit is triangle of sadness, one of the most vicious satires in movie history about supermodels and tycoons on a super mega yacht with a Marxist captain – the ship crashes, the characters end up on the uninhabited island and chaos the most outrageous and hilarious ensues. The director had previously dominated Cannes, and thus Östlund entered a very exclusive club of directors who won the Palme d'Or more than once, joining the virtuosos Michael Haneke, Francis Ford Coppola, the Dardenne brothers, Ken Loach, Emir Kusturica, Bille August, and Shohei Imamura.
Östlund had been a Cannes darling since his third feature film, force majeure, won the jury prize in 2014. Then, of course, came The place, loosely based on his art installation and that of his producer Kalle Boman which is simultaneously a social experiment. The most sassy, ​​sharp and paradoxical film of the 2017 festival won Östlund's first Palme d'Or. Let's try to break down the style of this sharp-witted delinquent director and find out what role Swedish anarchists, edgy performance artists and snow sports play in his satirical annihilation of bourgeois values.
Östlund's inspirations
One of Östlund's major and most obvious influences is the great Michael Haneke, with his ruthless and scathing satires of the European bourgeoisie, with his films as "a satanic soap opera of pure sociopathy", as described by The Guardian. In his films, Haneke makes a grim diagnosis of modern society, and Östlund does not hide the fact that he has been watching Haneke since his years at film school: "After watching Unknown code, I seriously thought I should stay in the theater after the screening and clean up after everyone else. Haneke's ideas about personal responsibility to each other had a strong influence on me. I thank God Haneke is alive and shooting right now. And he does it in such a European way — his films are always very beautiful and just as ruthless."
Related: The best movies about bureaucracy and its frustrations
There are also special links with Swedish anarchists in Östlund's films. triangle of sadness contains several quotes from Swedish writer and journalist Stig Dagerman, who made the newspaper of the Swedish Anarcho-Syndicalist Youth Federation one of the most commented newspapers in the country. Nowadays, Dagerman is placed on the same pedestal as Kafka and Camus, and there are awards handed out in his name – which in fact he would probably hate.
Östlund's reference pool also includes Eastern European, unconventional and anti-establishment artists. Oleg Rogozin, a man-gorilla who terrorized the respectable public in The placeis a tribute to the famous performance of Oleg Kulik The mad dogin which the artist explores animality and bites both his spectators and the curators' daughters.
Östlund's anti-capitalist crusade
Östlund filmed athletes training at the ski resorts where he worked in the summer, and the footage was so good it got him into film school in Gothenburg. The future master of grotesque mischief kept thinking about how to get back to those seaside resorts – and so the black comedy force majeure, the first feature of his anti-capitalist trilogy, sees the light of day. Östlund told The New York Times that he had two goals in making this film: "One is to create the most spectacular avalanche in the history of cinema. The other is to increase the divorce rate.
The offbeat and experimental style of the author (already present at his beginnings The Mongoloid Guitar) eventually became himself in the teen petty crime drama To play, an inventive and hardline approach to Swedish tolerance and multiculturalism that caused a sensation in liberal Swedish society and was even declared racist by left-wing publicists. In force majeure, Östlund went even further. The story of an exemplary family man who, at the time of an avalanche in a ski resort, fled to save himself in place of his wife and children, has become a universal and caustic indictment against the proclaimed values ​​of a democratic society and capitalism.
Considered one of the best films to have premiered at Cannes, The place, the second installment of the anti-capitalist trilogy, ridicules the refined contemporary art world with its curators, vernissages and actionism. The main character, curator of a modern art gallery, leads a rather bohemian life, drives a Tesla and thinks only of scholarly things. His latest art project is "Square", a small fenced street space outside the museum, which bears a sign stating that it is a special space of care and trust, where equal rights and obligations will always be respected. Spoiler alert: it's not going as planned.
Related: Cannes 2022 Winners: A Survey of Films and Filmmakers
The idea of ​​his latest work, the satirical Cannes out of competition triangle of sadness, came to Östlund after researching Marxism and seeing a study with children where they were asked if they preferred to be beautiful or smart – and the majority chose the former. He decided to document the atrocities and absurdities of the modeling profession in his own way. A comically nauseating satire of the ultra-rich and famous, triangle of sadness completes Östlund's shrewd anti-capitalist trilogy.
Triangle of sadness: subtle or grotesque?
In an interview with The Guardian, Östlund mentions that he does not consider himself a director of fiction films but rather a documentary filmmaker who accidentally fell into drama. The satire feeling like a documentary seems to be a popular sentiment these days, with Cate Blanchett noting that Don't look up got way too real, way too fast, and black mirror creator Charlie Brooker takes a break from his show because reality has become too dark and ridiculous to parody.
Östlund's piercing gaze addresses all the sacred cows of modern society: the world of high fashion and art, the ultra-rich and what they are when they are stripped of all their shell. golden. It studies with a magnifying glass the peculiarities of human behavior in the face of a crisis. In Östlund's words: "All my films are about people trying to avoid losing face."
While delving into modern social culture can be very fruitful as with The place and Don't look upit can also easily fall on the face, as happened with The circle and Not good. Despite an eight-minute standing ovation, triangle of sadness abandons the filmmaker's usual subtlety, and that doesn't sit well with some critics. The Guardian gives it a paltry two out of five stars and writes that Östlund's "brutal satire on the super-rich loses its shape", while the BBC even calls it "the most disgusting film of 2022".
To be fair, Östlund has always struck a balance between the ironic and the grotesque: within the framework of The place promotion, a video was released in which people within the compound of the aforementioned Equal Rights and Obligations Space blow up a girl with explosives. This video has millions of views on YouTube. After all, satire rightly remains an incredibly controversial genre and is meant to make you uncomfortable – and Östlund excels at it.