Slow fashion in the Bangladeshi context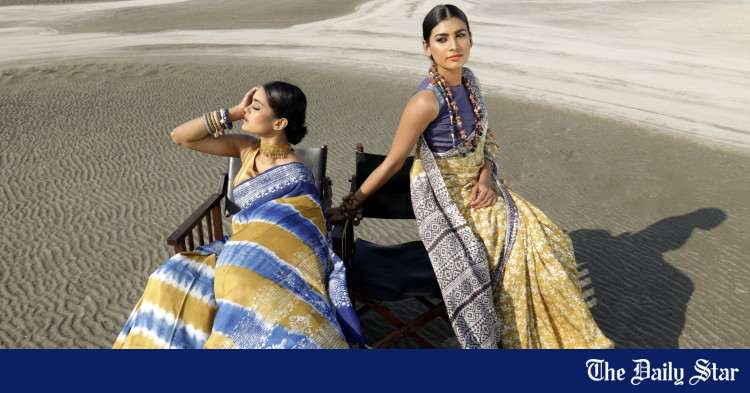 As one of the pioneer slow fashion brands in Bangladesh, Friendship Colors of the Char promotes a responsible lifestyle towards the sustainability of our culture, heritage and the earth. Using the centuries-old techniques of hand weaving, hand dyeing and hand bending, which confirm the preservation of the naturalness of mother earth with a zero carbon footprint and adapting the "zero waste" policy in the he use of fabrics to ensure zero waste, slow fashion is the "luxury pillar" of this sustainability movement. For those who prefer to buy less, but better, and designs that are timeless, earthy classics, slow fashion is a good choice. We offer responsible, traditional and unique pieces.
On the contrary, "Fast Fashion" brands now produce twice as much as in 2000 due to the increase in global clothing consumption, which is expected to reach 102 million tonnes by 2030, compared to 62 million tonnes by year. This contribution of waste from Bangladesh's textile industry would generate around 577,000 tons, which is quite worrying for the people of the country.
A study estimates that 15% of the fabric used in the manufacture of clothing is wasted due to cut-outs. According to statistics from the United Nations Environment Programme, 60% of the 150 million items of clothing produced worldwide in 2012 were wasted. Despite rising textile waste rates, textile recycling remains too low, with 57% of all discarded clothing ending up in landfills, leading to numerous risks to public health and the environment, as harmful compounds, including methane, are emitted when landfills are burned.
Bangladesh alone creates nearly two lakh tons of recyclable cotton waste, worth about $100 million. Polyester, a synthetic material that emits more carbon than cotton, is used to make most inexpensive clothing. Additionally, synthetic materials account for 35% of all microplastics that enter the oceans, typically via washing machine effluent, which slowly degrades in the oceans and forms a toxic chemical that harms life and to marine ecosystems. Microplastics eventually enter the human food chain, creating complex health issues.
Currently, 44 trillion liters of water are used annually for irrigation, 95% of which is used for cotton production. In addition, the textile and fashion industry has caused a 7% decrease in local groundwater and drinking water around the world, especially in water-stressed manufacturing countries like Bangladesh, India. India and China.
According to the most recent study on the textile industry in Bangladesh, spinning waste accounts for 24%, weaving waste 35%, cutting waste 10-15%. In addition, dye loss is up to 200,000 tons and post-consumer waste is 1,000 tons. Bangladesh must act as soon as possible because the sums are alarming and pose a serious threat to long-term sustainability.
In 2021, Bangladesh's commercial industry took a self-defeating step by adopting a policy that allows ready-to-wear garment exporters to increase their wastage rate from 16% to 28%, allowing them to sell materials first in the domestic market. This unique policy has had a multifaceted effect, including environmental degradation, incompetence of local producers due to easy entry and lax production rules, and has contributed to the current crisis of foreign currency reserves in due to increased imports.
The RMG industry calculated wastage of 16% at various stages of production in 1998; the industry now requires 40%, which implies that their waste has increased by 150% over the last two decades. Dr Khondaker Golam Moazzem, research director at the Center for Policy Dialogue (CPD), disagrees with the Department of Commerce's decision to increase the wastage rate, saying the global practice is to reduce waste to zero using state-of-the-art technology.
As a 'third sector' organization, Friendship Colors of the Char finds it easier to follow the 'slow fashion' route, as it prioritizes environmental and social well-being over profit maximization. .
As a social enterprise, they leverage their social capital by accessing rural artisans who produce environmentally friendly products that define the social enterprise model. Their mission is to empower marginalized char women by developing an alternative and regenerative rural economy centered on women weavers. Their natural abilities are honed and enhanced through training on age-old traditional looms, natural dyeing and craftsmanship, and their skills are used in production centers located in the remote Kurigram and Gaibandha chars, creating clothes and unique household items. Their ability to earn a living gives them control over their lives and discourages early marriage, leading to mindful family planning and lower divorce rates.
Income control also gives these women more domestic decision-making power, a social voice and higher self-esteem. This is how the Friendship Colors of the Char model recognizes the community issues of rural women and generates socio-economic change from the micro to the macro level while promoting environmental sustainability through responsible consumption. Slow fashion, as opposed to fast fashion, establishes foundations that benefit both communities and the environment, unlike fast fashion.
The author is Director of Operations, Friendship Colors of the Char
Photo: LS Archive/Sazzad Ibne Sayed/ Friendship Colors of the Char
"Currently, the global practice is to try to bring the wastage rate down to zero. In this situation, it does not make sense to increase it. The Department of Commerce should look for ways to reduce the existing wastage rate by 16%."

Dr. Khondaker Golam Moazzem,

Research Director at the Center for Policy Dialogue (CPD)
"Slow fashion is the recognition that there are human beings behind the clothes we wear. As consumers, we have the power to change the world by simply being careful what we buy", – Nazra Mahjabeen Sabet , Director of Operations, Friendship Colors du Char.