The 10 best floral fashion moments from the Royals, from Diana and Kate to Meghan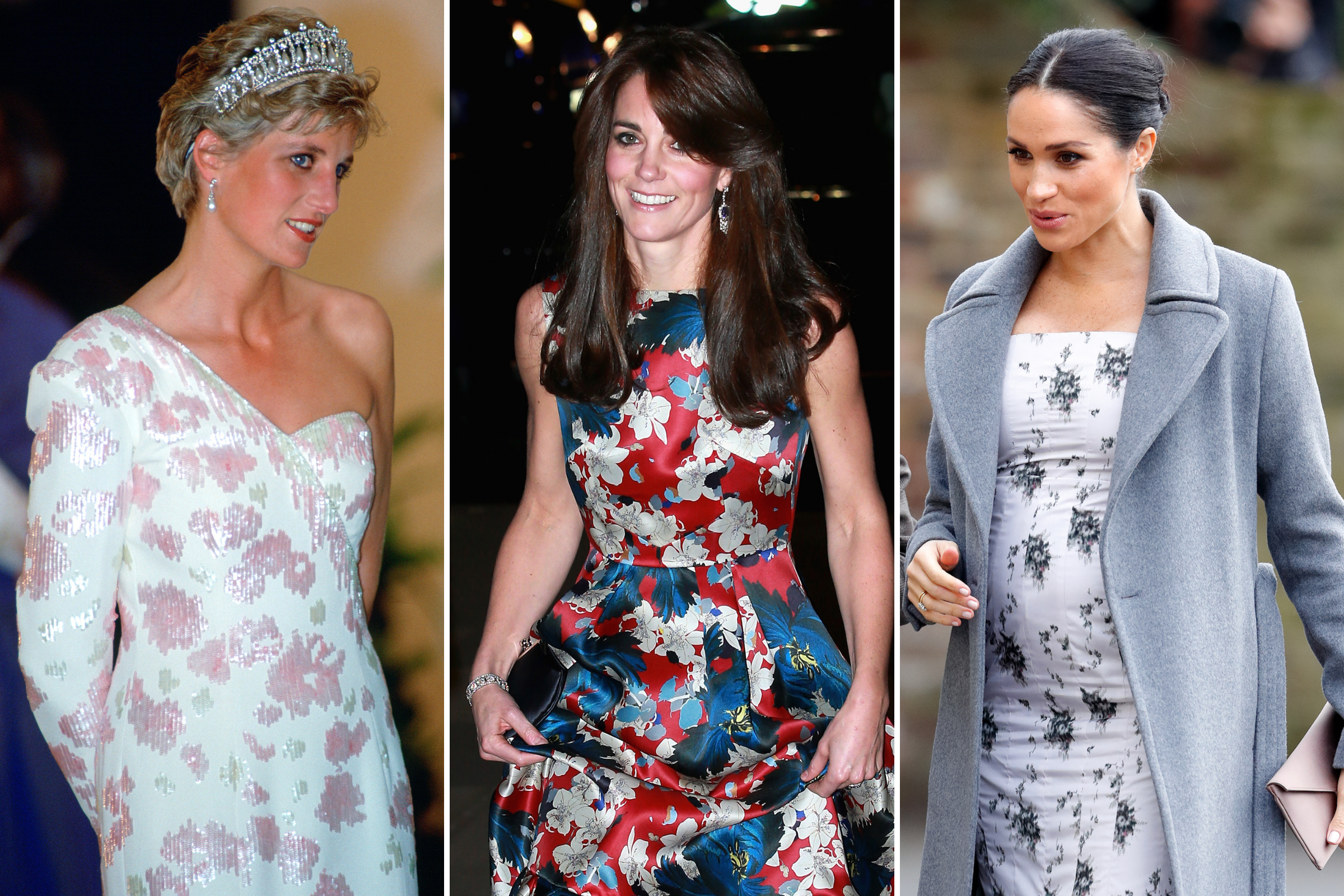 The royal family has long been associated with floral fashion as in centuries past the symbolism behind precious flowers signified power, wealth and status.
During her youth, Queen Elizabeth II often dressed in light floral print dresses which she incorporated into her wardrobe and which are often worn under solid color coats in a rainbow of shades .
During the week the Queen attended the Royal Horticultural Society's Chelsea Flower Show, Newsweek looks at 10 of the best floral fashion moments from the royal family, from Princess Diana to Meghan Markle.
Princess Diana – Melbourne, January 27, 1988
Princess Diana was a big fan of flowers, often wearing floral-print day dresses in her downtime, such as when she picked up Princes William and Harry from school or watched a polo match.
A large floral dress the princess owned was made by her close friend and designer Catherine Walker for a visit to Australia with Prince Charles in 1988.
The dress was made of rosewood white silk taffeta printed with blue chintz flowers and had an asymmetrical design. The Princess wore the dress to a bicentenary dance in Melbourne where she and Charles took the stage to open the dance to Glenn Miller's song 'In The Mood'.
The dress sold at the Princess's Most Iconic Dresses charity auction in 1997 for $50,600 (about $90,000 today).
Princess Diana – Brazil, April 23, 1991
Princess Diana wore a subtle one-shoulder floral-patterned dress by Catherine Walker during a visit to Brazil in 1991. The dress was made of ivory silk crepe with pale pink sequins arranged in the shape of abstract cherry blossoms.
The dress was included in lot 65 of the 1997 auction of the princess's dresses which raised $26,450 for charity.
Meghan Markle – Launch of Invictus, Australia House, London, April 21, 2018
Meghan Markle favored block colors and simple elegance for her work wardrobe as a member of the royal family, but she too sometimes chose floral-print pieces to inject variety into her style.
For a reception launching the Australian Invictus Games in London, Meghan opted for a green floral print Self Portrait dress with ruched detailing and cutout panels.
Meghan Markle – University of Fiji, October 24, 2018
Meghan, like other royals before her, understood that when on a royal tour, dressing with your surroundings in mind takes on greater importance.
While visiting a university in Fiji during her 2018 South Pacific tour with Prince Harry shortly after their wedding in May, Meghan wore a floral-print dress by Figue. The flowers of the dress were set off against the lush Fijian vegetation as the Royal Family met well-wishers on a walk.
Meghan Markle – Royal Variety Charity Residential Nursing Home, December 18, 2018
For a visit to the Royal Variety Charity Residential Nursing Home in December 2018, Meghan, pregnant with her first child Archie, wore a floral print paneled dress by Brock Collection. The dress featured a print of flower bouquets on a white silk background.
Kate Middleton – Gala Dinner, October 27, 2015
Kate Middleton's floral wardrobe is extensive as she's accumulated pieces throughout her 11-year marriage, never afraid to select pieces in bold and sometimes conflicting prints.
Many of these dresses were made by one of Kate's favorite designers, Erdem. Led by British designer Erdem Moralıoğlu, the brand is inspired each season by flowers from around the world.
In 2015, Kate wore a stunning floral Erdem dress in pink and blue to a charity gala hosted by female stockbrokers.
Kate Middleton – Diana Garden, August 30, 2017
2017 marked the 20th anniversary of Princess Diana's death in a car accident in Paris. To commemorate the occasion, Kensington Palace has planted a White Blossom Memorial Garden featuring some of the Princess's favorite flowers.
To open the garden with Prince William and Prince Harry, Kate wore a Prada floral print dress in green and orange that resembled the style of dresses Diana favored in the 1980s.
Kate Middleton – Chelsea Flower Show, May 20, 2019
At the Chelsea Flower Show in 2019, Kate wore an Erdem design for a special royal reception which saw the Duchess greet the Queen and guide her through a special woodland garden Kate had helped design.
The Erdem dress complemented the garden color scheme and featured lace band detailing and fluted sleeves to the elbows.
Kate Middleton – South Wales, August 5, 2020
During a surprise visit to Wales in 2020 with Prince William, Kate wore a beautiful cornflower blue day dress in a delicate floral print by designer Emilia Wickstead.
Kate has been a loyal Wickstead customer for the past 11 years and the designer has also found favor with the King's sister-in-law, Meghan Markle, who wore an emerald green Wickstead design during her final engagement as a working royal full time in March 2020.
Queen Elizabeth II – Windsor Castle, 23 March 2022
The Queen's love of flowers began in childhood when her mother dressed her two daughters, Elizabeth and Margaret, in matching Liberty floral print dresses.
Today, the monarch has reinvented her childhood dresses to become part of her modern work wardrobe. During an engagement at Windsor Castle on March 23, the Queen appeared wearing a yellow floral-print dress which was set off against the royal backdrop of St George's Hall.